---
Okay,... Sand Trooper may not be the most accurate name to give these guys,
but it's the one most commonly used.
I've used the Improved Stormtrooper as the base for this model. I've gone ahead and
edited the original textures and put together the parts that make up the backpack, all
of which have yet to be uv-mapped.
---

"Hey,... did I just tell them to move along!?"
Here's an image that I whipped up using 3DSMax, in hopes of making up for the lack of updates.
The backpack is still lacking any textures, but I'm pretty pleased with the way the grungy armor has
turned out. I'll try to get some new updates done as soon as I can.
---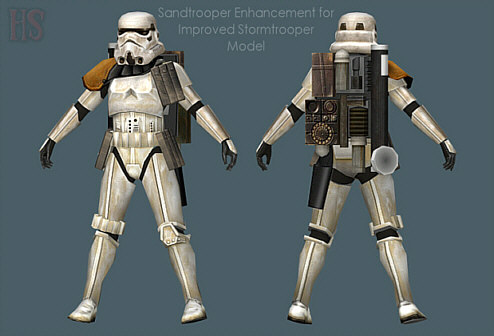 Did some more work on the backpack textures and also finished reworking the left knee. It looks so much better now.

Here's an image of the new mag pouch texture on the model. The textures are close to being done now, with only a few more details need to be added before the weighting can be started.
---
I've included two skin variations into the pk3 which will allow the player to choose which color of pauldron he's wearing by accessing the control panel while in game.
Then I guess it's finished,... check the dowloads page to find out where you can get it.
---
Home Page | The Void | Tutorials | Downloads | Links
---