---
Here's the beginning of the John Crichton skin using the JO's default Jedi model. I've worked just about everything out with the clothing textures, except for the boots. At the moment, all of his textures are a little simplistic overall, but I'm sure that they will change with time.


I'd really rather have a more accurate model to work on, but I'll take what I can get for now,...
---
I've started to dabble with modeling and made a vest to go over the player model
I was already working with. I also edited the arms to get rid of the modeled on sleeve.
I've also added the clips that run along the front of the vest,...
but I took these pictures before I did it.
---
Small update,... I came across some great resource photos of Crichton's holster, and spent a little time adding it to the model. I haven't been able to get much else done with it though, maybe after I get a few more of those Dark Forces Mod projects done.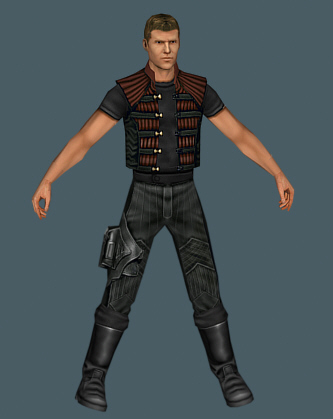 ---
Home Page | The Void | Tutorials | Downloads | Links
---